Why Treat For Scorpions In Chandler, AZ?
Scorpions are incredibly adept creatures, designed to survive and thrive in hostile and difficult environments. They can survive without food for months, under water for days, and even being completely frozen. They can fit through a space 1/16th of an inch in size and are very camouflaged to our desert environment.
Why Scorpion Control?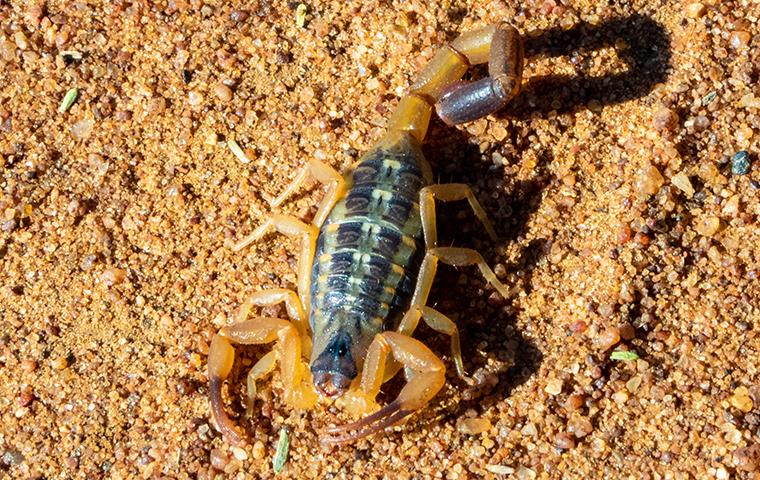 The most significant part of a scorpion is its tail, which houses its neurotoxin venom. This venom acts on nerve transmission, inhibiting our ability to "turn off" the signal. Most stings are only symptomatic in regards to pain, numbness and tingling. However, some people have extreme reactions of rapid eye and tongue movements, increased salivation and foaming at the mouth which can lead to choking and suffocation, and inability to control their body movements. Some people also have anaphylactic reactions, which can be life threatening. Those most likely to be significantly affected by a scorpion sting are children under 5, the elderly and the immune-compromised.
The Arizona Bark Scorpion is the most dangerous scorpion on our continent, and one of the most deadly in the world. It's significantly intertwined in our lives here in the desert, and many of us have just learned to live with these creatures. Despite this, the danger is still quite present. For every person that dies from a venomous snake, 10 are killed from a venomous scorpion. Nearly 1000 people per year are killed by scorpions in Mexico, primarily in rural areas with limited access to high level medical care, however these deaths are caused by the same Bark Scorpion.
The Significant Cost
Luckily for us, there is an antivenom. However, it does not come without significant cost. At nearly 8 thousand dollars per vile, the standard starting dose in the Emergency Department to treat progressing anaphylactic scorpion stings is 3 vials. This leads to a significant burden that can be prevented with proper management of your home.
Reduce The Risk
Our mission is to do our best to reduce the risk these creatures create to your family, and due to the extreme resilience of scorpions, nearly all other crawling pests are also controlled at the same time. We aim to prevent the rare, but inevitable anaphylactic responses to scorpion stings, but also to keep these creatures out of your beds, shoes or laundry and to prevent the common yet extremely painful stings.
Why Us?
Scorpion Shield was founded from a passion to protect those at highest risk from dangerous home invaders. We approach treating and protecting your home and family as if they were our own.
Automatic 10% discount for all households with children under 3
Scorpion control is always part of the treatment plan, regardless of other pest presence.
We strive to be the most professional and comprehensive scorpion management service in the valley.
Easy, safe, and secure online payment options
Affordable treatment options for any budget. We believe protection of your home and loved ones should be accessible regardless of your budget.
We only use safe, proven pesticides and treatment protocols.
Thorough description of treatment plans, pesticides, and other methods of control upfront, so you never have to guess what is being applied to your home.
Spot treatment as needed between scheduled sprays, if continued activity is noticed.
Black light night evaluations, offered for greater treatment specificity.
We are focused on giving you the ability to walk through your house barefoot, move laundry or bedding, or watch your children play from across the room, with confidence that there will be no surprise pests interrupting.
View Our Service Plans
Learn about what we have to offer, and select the plan that best fits your needs
Request Your Free Inspection
Complete the form below to schedule your no obligation estimate.