The Scorpion Shield Process
When treating for scorpions, we go far beyond where general pest companies stop. Scorpions are extremely hardy creatures, and due to their metabolic traits, not all pesticides are effective against them. Some pesticides dry pests out, some repel pests, some interrupt the respiratory system, and others cause paralysis through nerve disruption. The combination and rotational utilization of these products in a specific order and window of time ensure the elimination of current scorpions and ensure others will not take hold there.
Select Your Plan
Enter your zip code below to see plans available in your area:
How Big is your Home?
Adjust slider to match square footage of your home
Billing Information
Confirm Details & Schedule Service!
Program:
Terms & Conditions
| | |
| --- | --- |
| | |
I accept the terms and conditions
Service Scheduled
Initial Service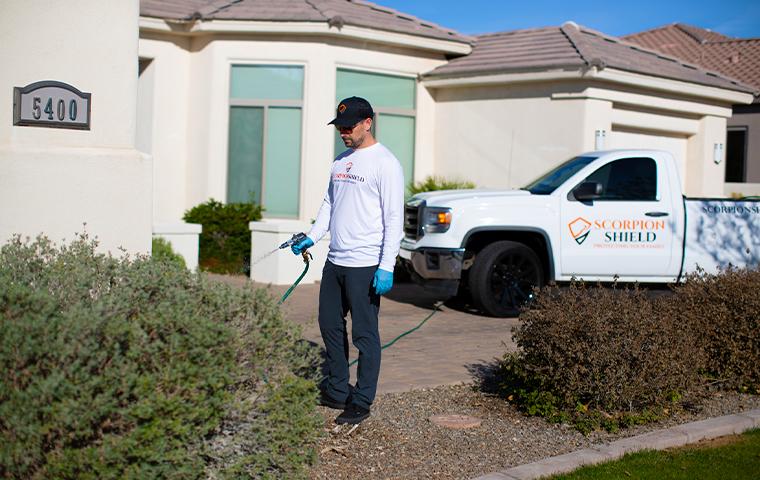 Our initial treatment will utilize between three and five different products and establishes five separate barriers on your property to ensure the highest potential of exposure to present pests. This treatment often disrupts pest activity and physiological function, making them come out of hiding more often and out at times of the day when you wouldn't normally see them; this is an expected result and indicates positive results.
Although it is our goal to eliminate scorpions, this is a process that takes time. During the initial service, we will perform an inspection to evaluate your home, yard, and perimeter wall for entry points and harborage sites. Your tech will discuss findings and suggested modification tactics with you to continue to reduce scorpion entry to your property. This treatment is rated to last from 60 to 75 days, but generally, we will schedule a follow-up treatment 30 days after. We apply glue boards at entry sites and monitor them at the follow-up visit to determine common entry points.
Follow-Up & Recurring Service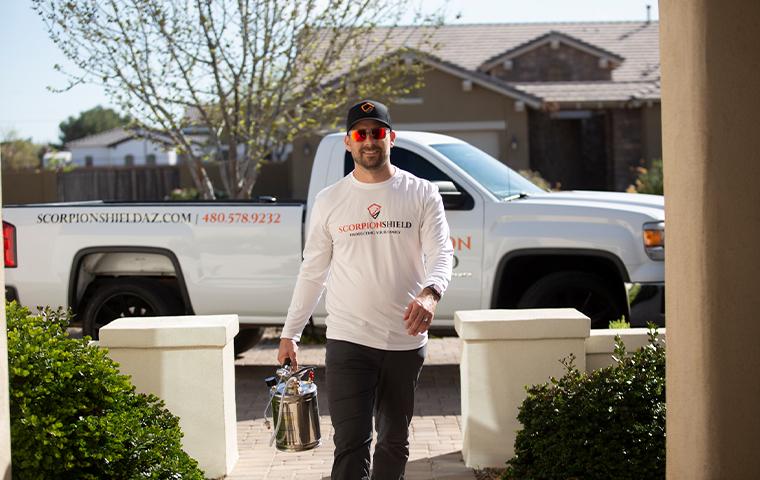 We typically schedule the initial follow-up service for 30 days after the initial visit. This service will generally provide the first product rotation, ensuring a full functional strength of quad guard product application. If any scorpions survive the initial treatment, this application will be a final blow. Glue boards are monitored and may adjust focus sites if findings suggest. During the window between the initial service and follow-up, any elected seal services, home modifications, or landscape modifications we recommend you have us complete.
After we complete the initial and follow-up services, we typically transition to a monthly or bimonthly maintenance service, depending on the severity of the initially identified infestation level. We will continue to rotate products during these service periods with reapplication to common harborage and travel sites in order to continue to provide barriers and prevent scorpions from traveling into your yard and ultimately into your home.
Protect Your Chandler Home From Scorpions
If scorpions have overrun your Chandler home, you need help from your local scorpion control authority. Reach out to Scorpion Shield today for comprehensive scorpion control and prevention services.
Because we are parents, ourselves, we understand the pressures that pests cause when they invade Chandler homes. That's why we offer 10% off for all homes with children under 3 years old! Learn more about our scorpion treatment products, and find out why scorpion control is necessary for Chandler, AZ homeowners.
Request Your Free Inspection
Complete the form below to schedule your no obligation estimate.