Protect Your Phoenix Business From Scorpions & Other Pests
Scorpions present a serious threat to your business. If they get inside or spend their time around the exterior of your facility, they can harm your employees or customers. Although the health threats they present are the most serious issue, you also have to consider the effect that scorpions will have on your business itself. People won't want to enter your building if it's known to have scorpion problems, and a damaged reputation will lead to a loss of business and revenue.
If your business is dealing with a scorpion problem, you need the expert services of Scorpion Shield. We have made our business into the most effective scorpion control company in Phoenix and the surrounding areas because we understand firsthand the life-threatening nature of a scorpion infestation. Our commercial scorpion services also include service for general pests, flies, and rodents because we understand that all of these pests are a threat to your business's success.
What To Expect From Our Commercial Services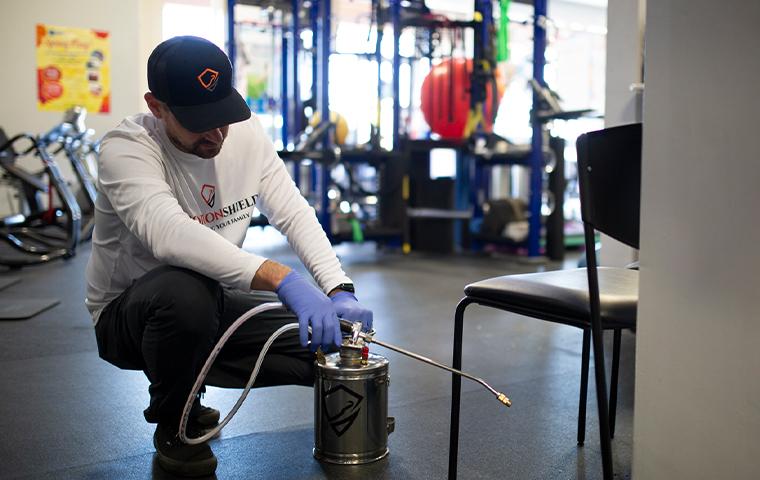 Your service begins with a thorough inspection to identify where scorpions and other pests are active, how they are getting inside, and where they are harboring. We'll inspect all of the following areas at this time:
Door sweeps
Plumbing access points
Ventilation
Holes in the walls
Under desks
In cabinets
Lights
Windows
We'll also check to make sure that the areas we need to treat are accessible. If anything is in the way, we'll let you know so that you can remove those items prior to our first treatment.
Our initial service includes a treatment that uses three different products for full protection. We'll treat all access and wall sites, doors and entryways, the entire exterior perimeter, and interior areas.
Follow-up treatments become more targeted and specific over time. After we eliminate pest activity, we can move to a more preventative-based treatment plan. We add a fourth product to our treatment plan and rotate the use of products on subsequent service visits. Our follow-up services occur monthly.
Reasons To Choose Scorpion Shield
We are the most professional and comprehensive scorpion management service in the Valley.
We only use safe and proven pesticides and treatment protocols.
We provide a thorough description of our treatment plans, pesticides, and other control methods upfront, so you never have to guess what we are applying to your facility.
We offer affordable treatment options for any budget.
We offer easy, safe, and secure online payment options.
We offer black light night evaluations for greater treatment specificity.
We are family-owned and operated.
We approach treating your business like it's our own.
Why We Do What We Do
After our son had a Grade Four anaphylactic reaction to a scorpion sting inside our house, even though we had a company treating our home for scorpions, we knew there had to be a better way to keep them off residential and commercial properties. We do what we do because we know firsthand that a scorpion problem can have life-altering repercussions. Let us protect your business, your employees, and your customers from scorpions and other pests. Contact us today to request a free inspection.
Because we are parents, ourselves, we understand the pressures that pests cause when they invade Phoenix homes. That's why we offer 10% off for all homes with children under 3 years old! Learn more about our scorpion control products, and why our scorpion treatments are right for your Phoenix business.
Request Your Free Inspection
Complete the form below to schedule your no obligation estimate.